Improve Your Mood with Food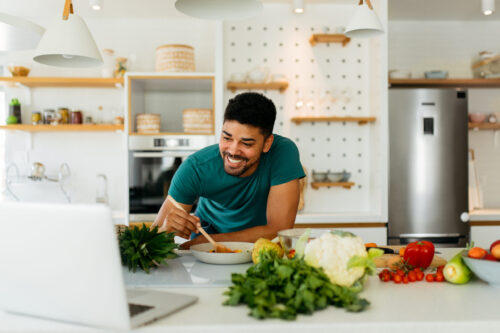 In honor of Nutrition Month in March, Wellbeats has unveiled a new nutrition program exploring the connection between food and mood.
Whether you're experiencing the blues or in need of a pick-me-up, food can be powerful way to improve your mood and energy. This program is led by functional nutritionists and chefs and is for anyone looking for ways to eat healthier and feel happier.
In this two-week program, you will learn about the connection between the food you eat and your mood. We cover ways to combat cravings, how to best fuel your body, and how to improve your digestion. You'll also learn tips for maintaining your energy levels.
The program begins with Wellbeats instructor Christina S. providing an overview of the connection between food and mood. You'll learn about what's hiding in your food and prepare a delicious chicken garlic pasta with Chef Marshall before rounding out the week with a lesson on how sugar impacts your health with Christina S. and a tutorial on the glycemic index with Wellbeats instructor Katie W.
Week two begins with a delicious, mood-boosting barley berry kale salad prepared by Chef Marshall. Christina S. then explains how to do a whole food detox—a detox that's all about nourishment and adding whole foods to your diet rather than the traditional detox approach of removing foods. You'll cap off the program with tips to maintain your energy levels and improve your digestion.
Wellbeats Member Feedback
Wellbeats members are loving the Food and Mood program:
"Very informative and learned things I did not know regarding food choices." —Nancy, Wellbeats member
"Great information and a good start to better eating." —Crystal, Wellbeats member
"This was broken down in an easy-to-understand way. Thank you." —Stephanie, Wellbeats member
"I wish I had learned this a long time ago." —Latasha, Wellbeats member
Nutrition Month is a time to learn about making informed food choices and developing healthful eating and physical activity habits, so Wellbeats members are invited to join the Food and Mood program now. Already a Wellbeats member? Join the Food and Mood program now.
About Wellbeats, a LifeSpeak company
Wellbeats, a product of LifeSpeak Inc., is the premier solution for on-demand, virtual wellness content and programming for use in corporate wellbeing initiatives. With more than 1,200 fitness, nutrition, and mindfulness classes led by certified, relatable instructors and 60+ goal-based programs available anytime and anywhere, Wellbeats' best-in-class content equips employers to support employees with wellness resources that fit their unique needs, lifestyle, and schedule. With the belief that wellbeing isn't just for some—it's for all—Wellbeats gives people of every age, interest, body type, and ability level the same opportunity to live a healthier life. For more information, visit www.wellbeats.com or check out a sampling of the company's fitness classes during a Facebook Live class, and follow Wellbeats on LinkedIn, Facebook, Twitter, and Instagram.